For the past 2 years, the world has been severely affected by Covid-19. Some industries have known a drastic drop in turnover, such as the event sector, while others such as the real estate market have had two very beneficial years. What happened to the prices of diamonds during the pandemic?
When thinking of investments, people always tend to think of the traditional options such as real estate, stocks or financial trackers, but over the years more and more people have started investing in other things such as art and diamonds. Diamonds have always been a good long-term investment for several reasons: they are a physical asset that keep their value and are easy to maintain. Diamonds are in high demand but are also rare and scarce, which leads to steady price increases over time. Lastly, they are small and unbreakable investments that you can store safely.
Diamond prices have always been steadily rising, but when Covid-19 came, there was no certainty as to was going to happen to price over the next few years. However, the industry has known many crisis periods, and while prices might initially drop, it always recovered and kept on going up.
We published an article at the start of the crisis, forecasting that it would be the perfect opportunity to purchase diamonds.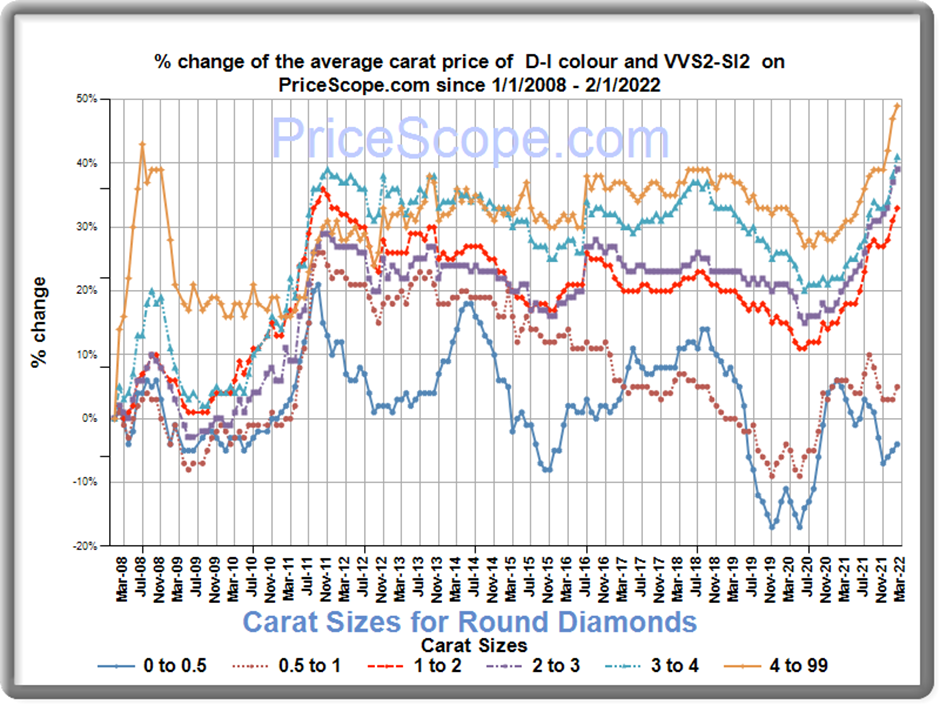 Diamond prices in 2020
As most of us expected, the diamond industry initially knew a drop in sales because of the uncertainty of the pandemic. However, the drop in sales didn't last for more than a few months and quickly got back to the same level as before. Diamond manufacturing sites and mines were shut down because of Covid-19 and there was a significant inactivity of diamond manufacturing.
Diamond prices in 2021
In 2021, we have seen a worldwide trend of increased prices for raw materials, it's not different for the diamond industry. The market experienced a much-needed recovery in 2021 after the massive Covid-19-related supply chain and retail disruptions. Online sales spiked in 2021, making the demand grow even more. In combination with the increased scarcity, due to less manufacturing as India was in lockdown, diamond prices in 2021 have increased.
What will happen to the diamond prices in 2022?
For 2022, we expect to see a further increase in diamond prices of about 20%. In January 2022, diamond giant De Beers has implemented the biggest price increase in years as they need to recover from the pandemic-induced shutdowns. This, of course, influences the worldwide diamond industry to further increase the prices. We mainly see a big increase in diamonds starting from 1 carat, the smaller diamonds will also get more expensive, but at a slower pace.
To conclude, we can see that a crisis initially affects the industry in a way where prices drop, but after recovering, the prices went back to normal and even got higher. It's still a perfect time to look for the perfect diamond, for personal use or investment.
Would you like to know more about the diamond prices? Don't hesitate to contact one of our diamond experts.